FALL 2023

Nakatani Gong Orchestra

---
WHEN: 9AM - 2PM, Thursday, October 12, 2023
WHERE: Olympic Hall (OLY), Room 120, South Seattle College

BE SURE TO RSVP BELOW

---
To kick off the 2023/2024 school year the Artist As Storyteller series is thrilled to bring musician Tatsuya Nakatani to campus to share his Nakatani Gong Orchestra project. Students will have the opportunity to engage with Tatsuya on a number of different levels. For those who want to learn to play in a gong ensemble, they can train in Nakatani's technique for playing his bowed gongs, learn his method of conducting, and perform in a 16-member ensemble at the
Chapel Performance Space at the Good Shepherd Center
the following evening. All others can enjoy a community lunch and learn about Tatsuya's music and hear a short performance.
Please see the schedule below and make sure to
RSVP
for those events in which you'd like to participate.
---
Event Schedule
9 am-12 pm:
Student workshop with Tatsuya Nakatani (spaces for this workshop are limited;
you must RSVP to join
).
Participants in this workshop must be available to perform at the Chapel Performance Space at the Good Shepherd Center on Friday 10/13 at 8PM. Participants will receive an honorarium of $90.
12-1:
Lunch is served! Please stop by Olympic Hall and enjoy food and community.
RSVP for lunch here.
1-2:
Tatsuya Nakatani artist talk and performance (OLY120)
This event is co-sponsored by the
East Asia Center in the Jackson School of International Studies at the University of Washington.
---
Artist Bio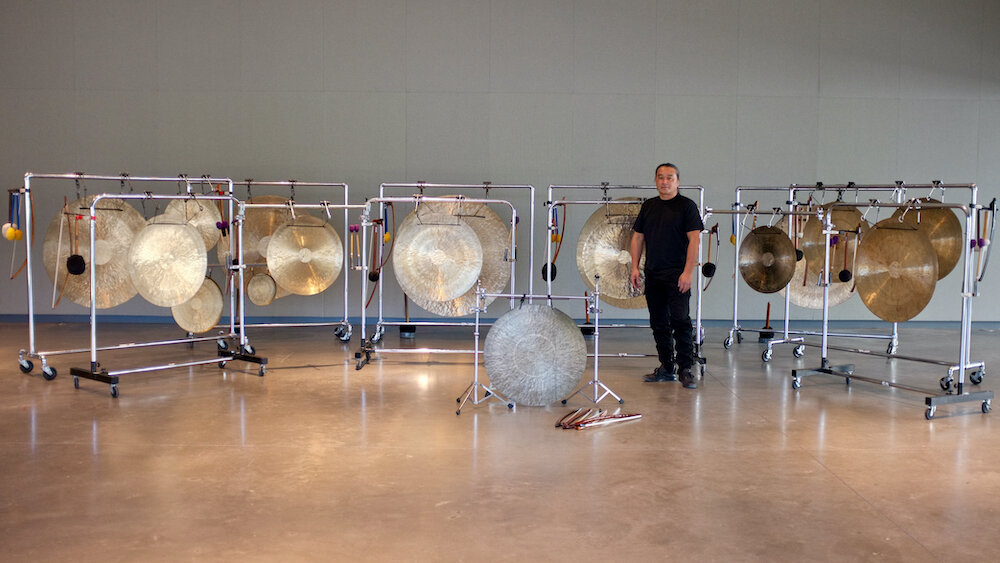 Tatsuya Nakatani
is a creative artist/percussionist originally from Osaka, Japan who has released over sixty recordings in North America and Europe. Residing in the USA since 1994, he has performed countless solo percussion concerts and has collaborated with hundreds of artists in international music festivals, university concert halls, art museums and galleries.
In the last decade, the Nakatani Gong Orchestra (NGO) has performed hundreds of concerts involving thousands of participants around the world in the creation of these transformative sound works. For each unique performance, participating NGO players (musicians) are selected by a local presenter. Nakatani gives a specialized rehearsal to the players in preparation for the performance. There is no expectation of previous experience playing a gong. Nakatani instructs the players in his unique techniques for bowing the gong and following his method of conducting.
Read more about Tatsuya and the Nakatani Gong Orchestra at his website.
---